REGISTRATION

No more than 800 participants will be accepted.
Registration deadline: July 31
Online registration only.
The registration includes:
The entry fee.

The race number plate.

A souvenir gift.

The timing. (Elite Ultra and Raid Ultra)

Food provisioning during the race.

Meals after the race.

A shuttle bus between La Grave and Villar d'Arène on Saturday and between La Grave and Le Chazelet on Sunday

Free supervised bike parking

Security

Prize draw (for the 2 day races)

Prizes according to ranking in each category (Elite Ultra and Raid Ultra)
Sign up early to pay a lower entry fee.
NOTE: It is compulsory to upload a copy of your medical certificate or UCI license when you register.

Due to COVI 19 if you do not have a medical certificate you can still register. You can download your medical certificate later. This measure is in place exceptionally to not overburden doctors during this difficult period.
Take care of yourself and your loved ones.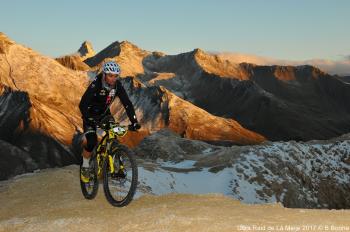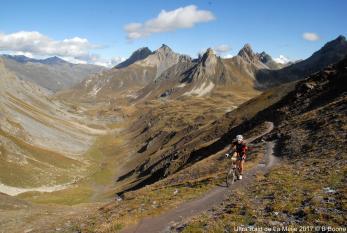 Races

Day

Registration date

9 October
au
29 February
1 March
au
30 April
1 May
au
30 June
1 July
au
31 July
Elite Ultra
Saturday
69.

50

74

79

89

Elite Ultra +
Saturday and Sunday
89

94

99

109

Raid Ultra 2 days
Saturday and Sunday
85

90

95

105

Raid Ultra 72km

Saturday (only)
59
62
65
69

Raid Ultra 52km

Sunday (only)
42

.50

45
47
49
Customisable tours

*

Saturday and Sunday
85
90
95
105
Customisable tours

*

Saturday
54
57

60

64

Customisable tours
Sunday
37

.50

40

42
44
* The shuttle bus to the Galibier mountain pass is optional (Price: 18€ for the morning shuttle with MTB, 10€ for the evening shuttle without MTB), limited number of seats available.

Rates: a short explanation
The URLM is not a mass MTB event. Every year a limited number of participants take part in the races. An important share of the event's budget comes from the entry fees. The expenses connected to the security (the race takes place at high altitude, in areas that are difficult to access, this incurs extra costs), the meals, the souvenirs and the organizational costs are such that the event has trouble balancing the budget.
The organisational committee, the leaders of which are volunteers, applies rates that allow the event to keep afloat as well as to guarantee the comfort and security of the participants. Only thanks to your participation does the event survive. Many thanks for your presence and trust.
Last registration date: July 31 at midnight. No on-site registration.
Only complete and paid registration forms are valid. A confirmation mail will be sent automatically. If you don't receive it: check that you registered the right email address and check your spam mail.
PLEASE NOTE: All incomplete or invalid registrations on September 5, 2020 will be systematically canceled and non-refundable.
Regulations here Download here
Download : medical certificate template parental permission template

Contact us : contact
⚠️ COMMUNIQUE OFFICIEL du 1 juillet 2020 ⚠️
Suite au communiqué de la Fédération française de cyclisme (FFC) du 26 juin 2020,
suite aux dispositions contenues dans le décret n°2020-759 du 21 juin 2020 modifiant le décret n° 2020-663 du 31 mai 2020,
le bureau de l'URLM a pris la décision de maintenir l'épreuve dans sa formule initialement prévue !

Quelques précisions s'imposent :
NOMBRE DE PARTICIPANTS
Il reste limité à 800. Cependant, nous sommes confrontés à un "petit" problème : le succès de cette édition est tel qu'à ce jour nous comptabilisons plus de 800 concurrents en additionnant les inscrits et les pré-inscrits. Par conséquent, nous inviterons une partie des pré-inscrits à s'inscrire dès vendredi : nous leur enverrons par mail un lien valable PENDANT 72 HEURES SEULEMENT. Ne pas s'inscrire dans ce délai entraînera automatiquement le transfert de leur dossard à un autre candidat.
RÈGLEMENT
Afin de respecter les gestes barrières et les protocoles sanitaires en vigueur à la date de l'URLM, de nombreux points du règlement sont susceptibles d'évoluer. Ces modifications seront transmises par mail à tous les inscrits et devront être acceptées sans restriction pour prendre le départ de l'épreuve.
ANNULATION
Si jamais nous sommes contraints à l'annulation pour une raison de force majeure ET si cette décision peut être prise avant le 1er septembre, les inscriptions seront reportées à l'édition 2021. Si jamais cette annulation survient après le 1er septembre, aucun report ni aucun remboursement ne sera possible.
Nous vous remercions de votre compréhension, de votre soutien et surtout de votre présence car, sans vous, l'URLM n'existerait pas !